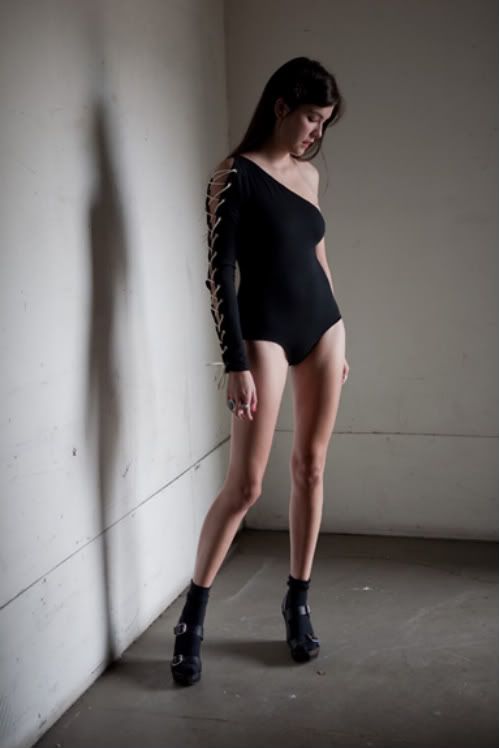 Some time ago, I was fortunate enough to get a little up and personal with Amelia Lindquist, creator and the amazing designer of the label, Peeps. Upon stumbling across her label, I immediately fell in love with her use of knits, neutral palettes, strategic cuts and simplicity vibe. Even as a young girl, Amelia was designing and selling her creations. Now as she juggles studies at Parsons and her busy schedule, she still managed to present us an exquisite fall/winter 2010 collection. Presenting Amelia Lindquist and her label Peeps:
1. Firstly, tell us a bit about yourself.
I was born and raised in Southern California and I am in my final year at Parsons in NY.
2. How did you start out as a designer?
I got really interested in fashion when I started to sew at age 10. It was something that was so new to me at the time and I loved the idea of creation.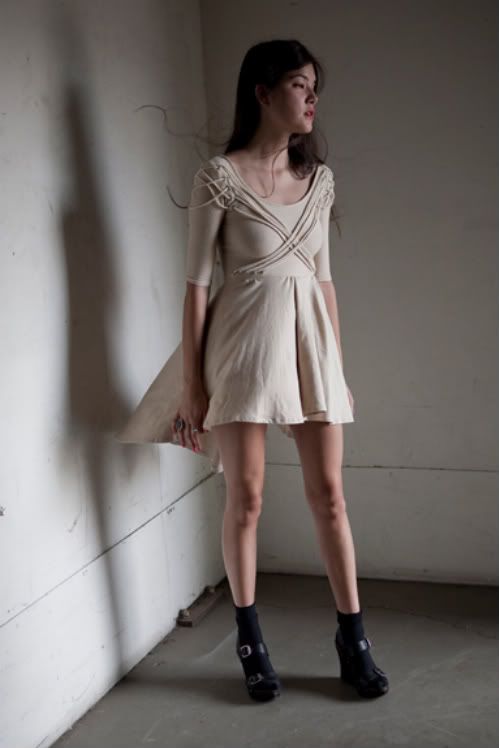 3. Can you give us an inside scoop of your label, Peeps?
I started Peeps in high school. The name actually was a nickname of mine growing up and got the URL when i was 8. I learned web design so I could update the site with the designs I had made because people at my school would always ask me to make them things. From there it caught on and now I make seasonal collections rather than random garments that get manufactured. It is also now sold in stores such as Pixie Market and Spanish Moss.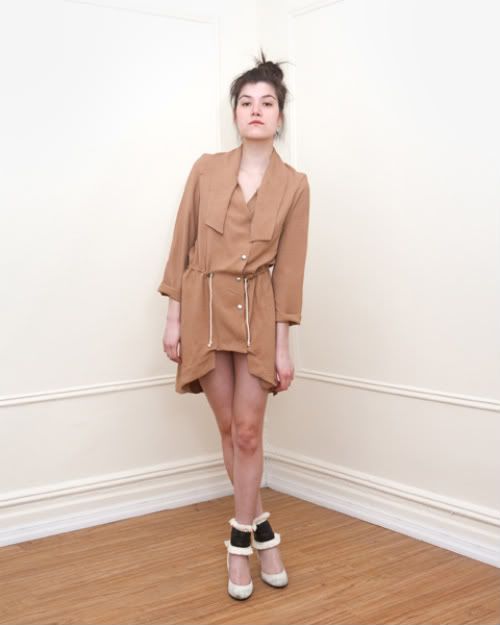 4. I see you started your very first collection back in 2009 (Fall09) with a very neutral palette consisting of blacks, grays and creams. Within a year, you managed to incorporate richer colors such as deep violet and deep burnt orange into your latest collection (F/W10). What inspired you for these color changes?
I studied in Paris a year ago and was really into those neutral colors, I made the collection right before I left. While I was there I produced a bunch of projects and then noticed that they all had that similar color palette so when I was thinking about my F/W10 I decided I should change it up a bit.
5. Describe a typical day in the Peeps studio.
A typical day would be a very busy one. Since I am juggling these collections with school, time has to be managed appropriately. I have a couple interns who are there once in a while but mostly I'm alone having intense designing and sewing days.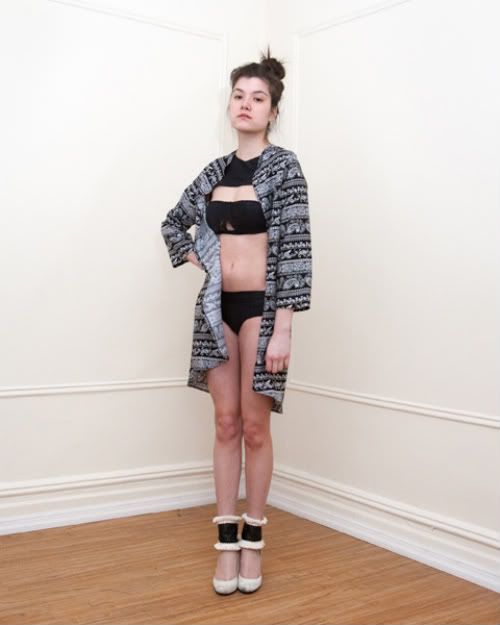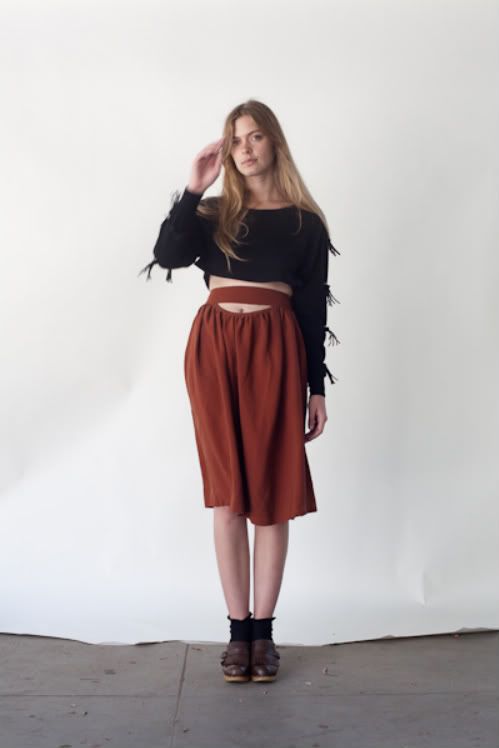 6. What would you say is the Peeps vibe?
Something that references the past but keeps it modern.
7. Who are the people you look up to the most?
I look up to my friends and designers I have worked for. It's inspiring to surround yourself with inspiring people.
8. Where do you hope to see yourself and Peeps in five years?
In five years I hope to have conquered a master's program. Peeps hopefully will still be around but I also hope to have a more conceptually involved designer collection going as well.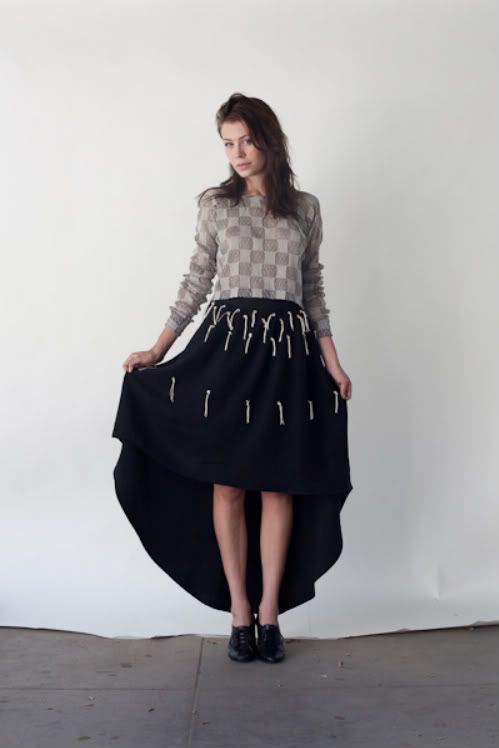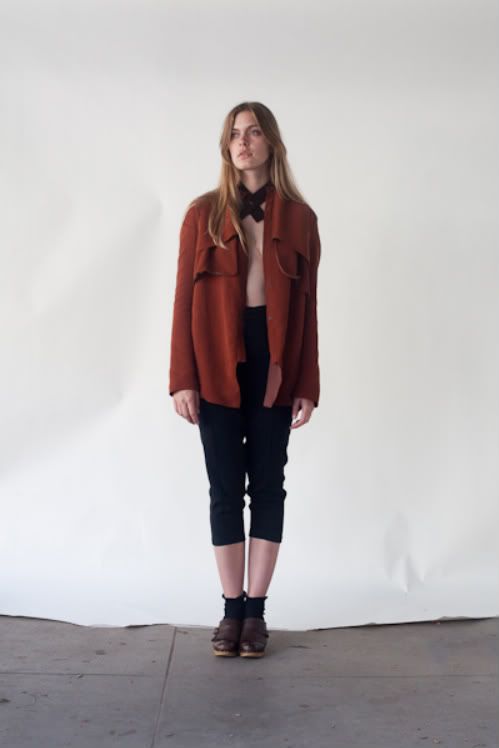 9. What is your favorite piece that you have designed so far and why?
I made this wool mohair herringbone coat when I was studying in Paris. It has a big collar that you can unbutton then button higher around your neck, its layered and has leather patches on the front like men's protective hunting gear. It's my favorite coat and my favorite thing I've made. It's also the warmest coat I have.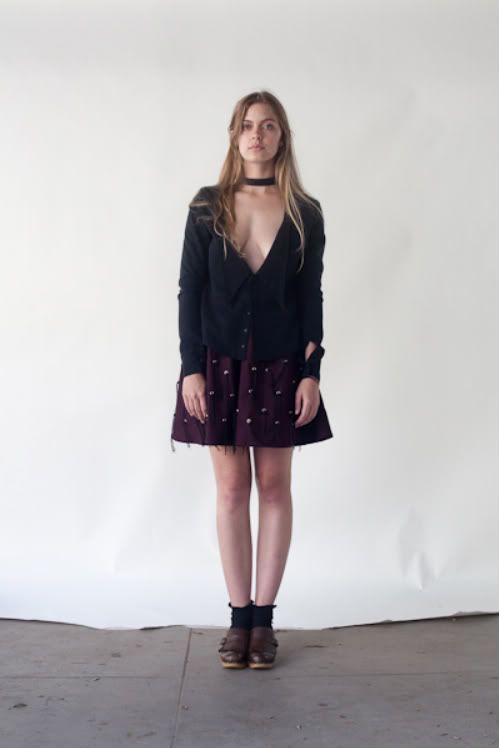 10. Fashion bloggers are continuously taking the fashion scene by storm, what is your take on fashion bloggers?
I think it's a great way to share information and collect inspiration.
11. Our last designer interviewee wants to know, what is your favorite kind of bikini?
I love the monokini.
12. And finally, what is one random question you would like to ask our next interviewee?
What is your favorite month of the year?
For more peeps into Peeps.