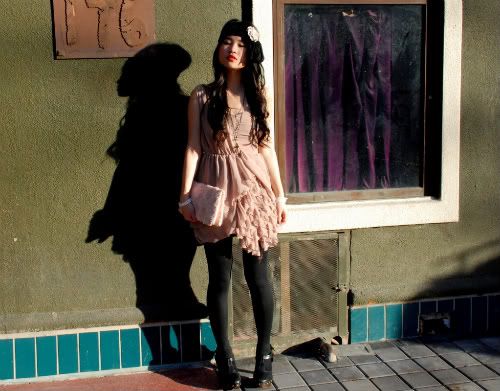 H&M Dress | Rose Clutch | Pearls | DKNY Tights | F21 Studded Clogs | Self-made Headband | Necklace
"So many people walk around with a meaningless life. They seem half-asleep, even when they're busy doing things they think are important. This is because they're chasing the wrong things. The way you get meaning into your life is to devote yourself to loving others, devote yourself to your community around you, and devote yourself to creating something that gives you purpose and meaning."
Theoretically speaking this is a fashion blog, not where I fork out some philosophy nonsense. But this quote from the book, Tuesdays With Morrie, really stands its ground and I like sharing my favorite quotes. It's moments like these where I am happy to revive my love for literature (my form of escape). I am currently enrolled in my school's Contemporary Literature class and though sometimes school assigned reading becomes a chore (I'd rather read according to my own schedule), I can't help but become immersed in books with some raw content.
On a side note, this outfit is what I wore to my school's winter formal two weeks ago. Inspired by this

post

and the twenties. I bought the dress at the very last minute but fortunately this was the last one in my size. This dress has straps that you are able to slip off while leaving you the choices of having a strapless dress, one shoulder strap dress or with both straps. Of course I opted for the unconventional take.