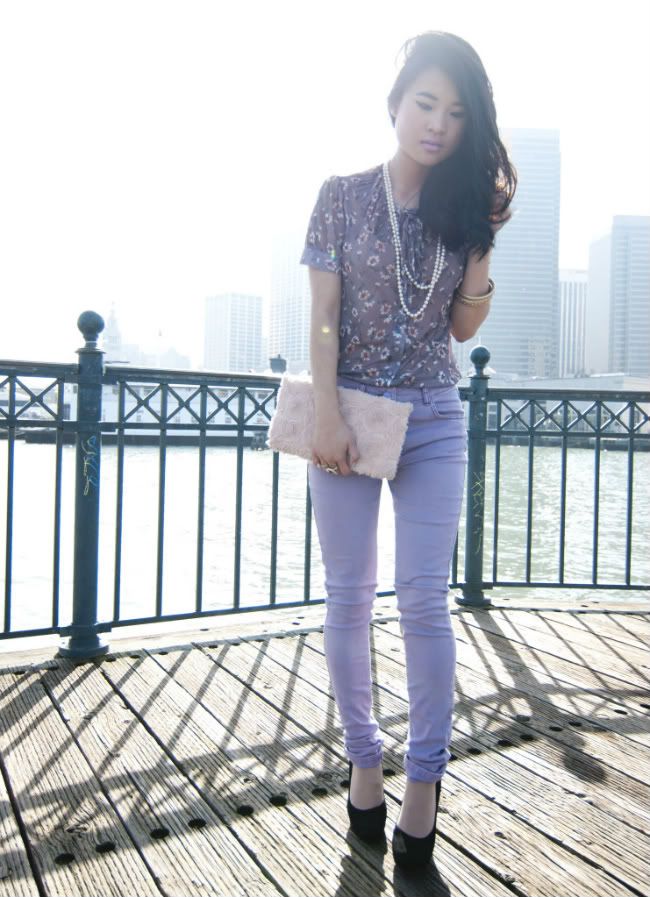 Asos Floral Top and Lilac Jeans | Suede Pumps | H&M Rosette Clutch | Vintage Rings
I had a one-day excursion in the city yesterday with friends, not only for leisure but for research purposes as well. My friend, Bernie Su, who is currently doing character research for an upcoming project that he is writing, decided that he wanted to shadow me as a fashion blogger as I take outfit shoots. What started as an idea over a cup of coffee resulted in seven outfits, six hours and one fun day in San Francisco. Needless to say, I have plenty of ensembles and sights to share.
First deciding to hit Embarcadero, I wore this pastel lilac-chromatic two piece. Like I've mentioned previously, I'm slowly but surely making room in my closet for pants. So when I saw this pair of pastel lilac jeans on Asos, I couldn't say no. And although I'm not usually one to care or follow fads and trends, this pair of jeans couldn't fit in better with the current pastel trend that's taking over every fashion blogger's closet while perfectly satisfying my soft pastels color obsession.