I'm dedicating today's segment to one of my favorite eras in fashion history. From the staple silhouettes to jewel-tone colors, this is my take on what a seventies siren must have.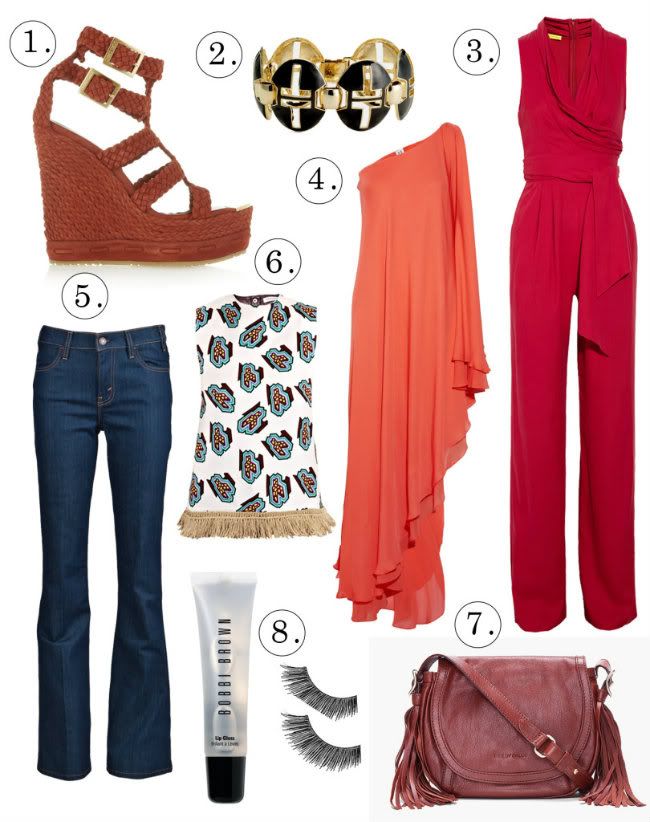 1. Wedge shoes
should be a staple of every girl's shoe collection today. From stacked wood to espadrilles, they are a blessing for those vertically challenged, like me. As they say, the higher the heel, the closer to God.
2.

Chunky art deco style jewelry is very seventies. Go for big, bold pieces that can be used to jazz up an ensemble, such as an ornate cuff in gold and black.
3.

The jumpsuit, a seventies staple, looks best with a plunging neckline and halterneck, breaking up the all-in-one style. It's sleek, sexy and perfect on a breezy summer day.
4. In a floor-sweeping maxi style, the one-shouldered dress is seventies fashion down to a tee. On a night out, opt for jewel-toned evening wear.
5. A nod to Farrah Fawcett in flares, team a pair of flared blue jeans with sky-high heels. And as Lana del Rey croons, blue jeans, white shirt.
6.

Floral prints are big this season, and the seventies was an era of paisley prints on floaty tops and dresses. Update a paisley print top with biker boots or a leather jacket, to toughen up the look and make it more modern.
7.

Tassels were the trimming of choice during this boho era. Best when kept minimal, they add a touch of retro to bags of all shapes and sizes. Like this beautiful Chloé.